You may also purchase the books on Amazon.com or purchase the non fiction books directly from Llewellyn Worldwide. Just click on the links below.
All of Ellen's books are available on both Kindle and Nook!

__________________________________________________

Titles by Ellen Dugan

Beneath An Ivy Moon (Book 4 in the Legacy Of Magick Series)
June 2016 in Paperback, Kindle and Nook!

Kindle Price: 4.99

Paperback Price:

Description coming soon!
Message Of The Crow (Book 3 in the Legacy Of Magick Series)

Release date December 14, 2015
Kindle price $4.99
Paperback Price $12.49

Book Description: One crow for sorrow and two crows for joy…

The drama keeps unfolding in William's Ford, the picturesque and charming Missouri college town where a deadly, decades old battle of dark versus good magick is being waged.
Seer, Autumn Bishop is still reeling from the shocking loss that has devastated her family. But a Witch's work is never done, and the last section of the missing grimoire has to be found, leaving her with no choice other than to go forward in this third installment of the Legacy of Magick series.
When following her heart leads to pain, betrayal and disillusionment, Autumn must pull herself up and try to make her own way. Not sure who she can trust, and at last coming into her own abilities, Autumn begins to question ethics and the motivations of those closest to her. With the help of new friends, Autumn explores different traditions of magick while ghostly clues and messages from the spirit world surround her.
As the final lunar eclipse of the tetrad cycle draws closer, and the search for the Blood Moon Grimoire reaches its climax, the magickal families of William's Ford must draw together to defeat a common enemy. Will Autumn be able to put an end to the curse that has haunted her family for generations?

Click here to order your copy today! Message Of The Crow

Secret Of The Rose (Book 2 in the Legacy Of Magick Series)
Kindle price $3.99
Paperback Price $11.49
Book Description: The search for the Blood Moon Grimoire continues…

Welcome back to William's Ford, Missouri. The bewitching college town where magick and weirdness seems to happen on any day of the week that ends with the letter 'Y'.
Autumn Bishop, grad student, Seer, and the newest Witch in town, has her hands full in the second installment of the Legacy of Magick Series. Her relationship with Duncan is heating up, and she is finally finding some normalcy in her new life. But things are never as they appear in William's Ford, and Autumn's path is not an easy one. Grisly poppets are being discovered, and they are linked to a series of accidents involving teenage girls. Added to this, a mysterious, yet kindly new ghost has begun to haunt Autumn at the Manor— just in time for Samhain. The ghostly visits are filled with distracting clues—clues to a long held skeleton in the family closet and the possible location of more pages from the lost Blood Moon Grimoire.
As Autumn digs into her own past for answers, she discovers a decades- old- lie and heartbreaking secrets which could drive Autumn's new-found family apart. Deception, division, and death haunt Autumn and all of the Bishops. Will she be able to rise to the challenge of her legacy of magick and uncover the secret of the rose in time?

Click on the link to order your copy. http://www.amazon.com/Secret-Rose-Legacy-Magick-Book-ebook/dp/B00ZRV32E8/ref=tmm_kin_swatch_0?_encoding=UTF8&qid=1434477920&sr=1-26

Legacy of Magick (Book One in a New Series)
Kindle Price $1.99

Paperback price $10.99 (286 pages)

Ellen is proud to announce the title of her new fiction! "Legacy of Magick" is the first in a new paranormal series about a modern day magickal family. Available through Amazon.com both as and eBook, and as a paperback!

Description:
So it turns out Magick runs in the family...
Autumn Bishop was just your average grad student...who happens to be a Seer. When she moves in with her long lost aunt and cousins, they look like a relatively normal family from the outside, however they turn out to be so much more.
When ancient traditions, longstanding magickal feuds, ghostly visitors, and Witches with malicious intentions start coming out of the woodwork, Autumn finds herself smack in the middle of the action as everything she thought she knew is turned upside down.
Drawn, as if by fate, into her family's legacy of magick, a new world unfolds for her, as her old one is left irretrievably behind.

Click on the link to order your Kindle copy
http://www.amazon.com/Legacy-Magick-Ellen-Dugan-ebook/dp/B00TOZ0K2K/ref=sr_1_1?s=books&ie=UTF8&qid=1424128923&sr=1-1&keywords=legacy+of+magick

The Natural Psychic: Ellen Dugan's Personal Guide to the Psychic Realm (June 2015)

Price: $16.99 264 Pages Published by Llewellyn Worldwide

Product Description: At last here is a down-to-earth training manual designed to help the reader better comprehend their own psychic abilities. Written with humor, no-nonsense advice, personal stories, and practical knowledge, this enjoyable book contains a vast array of information on the topic of psychic experiences, psychic abilities, and psychic phenomena.
Every Witch Way: Spells and Advice from Two Very Different Witches

Kindle Price $5.99

Paperback $10.99

Click here to order! http://www.amazon.com/Every-Witch-Way-Different-Witches-ebook/dp/B00MG1FDNK/ref=sr_1_1?s=books&ie=UTF8&qid=1407275644&sr=1-1&keywords=Every+Witch+Way+Dugan

Product description: Just like two snowflakes, no two witches are alike. Journey with authors Ellen Dugan and Tess Whitehurst as they contrast their differences, illuminate their similarities, and generally give you the lowdown on the Craft as they know it. Investigate different sides of oft-debated magickal issues as these very different witches square off on subjects such as:
• Psychic and energetic protection
• Can you be a Christian Witch?
• Does "harm none" mean you shouldn't eat meat?
• Angel magick: when is it appropriate?
• House cleansing/ clutter clearing
• Faerie Magick: Romantic idea or invitation to trouble?
Packed with plenty of useful charms, spells, rituals, and magickal principles- and served with a generous helping of wit, wisdom and humor- this fun little compendium will inspire you to happily live the magickal life, while letting your inner power shine bright.

Practical Prosperity Magick: Crafting for Success & Abundance
Price $16.99 264 pages

Product description:
"Break down blocks that have kept you from achieving your goals and let Ellen Dugan show you how to correctly work magick to achieve prosperity. Filled with humor and no-nonsense advice, this book has numerous spells, charms and rituals as well as the foundations for success. You'll learn about the seven hermetic laws and the law of attraction. You'll see how the question of prosperity is framed by the four natural elements and discover the basics of magick.

Included are easy and practical techniques to stay upbeat, remove negative thoughts, draw good luck and money quickly, transform bad luck to good, remove obstacles, and much more. This is the ideal guide for magically overcoming challenges to success and prosperity, even in our current economy."

Witches Tarot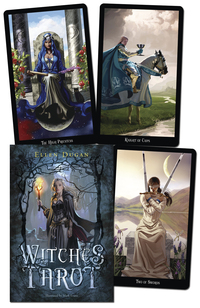 Price $ 28.99
This is a boxed set. A gorgeous new tarot deck and an original book. Ellen scripted and designed the deck, and wrote the original accompanying book.

Award-winning author Ellen Dugan, a highly respected Witch and tarot reader, and award-winning artist Mark Evans have created the perfect deck for all devotees of the Craft.
Positively radiating witchy energy, this easy-to-use tarot showcases beautiful and evocative digital artwork. Echoing the traditional Rider-Waite structure, each card includes instantly recognizable Pagan symbols that resonate with today's Witch. In addition to card descriptions and meanings, Dugan's companion guide features seven unique spell-enhancing spreads for both tarot readings and magickal practice.
Witches Tarot is now also available as an app for $3.99!

http://itunes.apple.com/app/witches-tarot/id716749057?mt=8

_______________________________________________

Seasons of Witchery: Celebrating the Sabbats with the Garden Witch
Price $18.95 (You may pre-order this book NOW on amazon.com!)

ISBN# 978-0738730783

In Seasons of Witchery, the newest release in Ellen Dugan's best-selling series, she offers readers a wealth of magickal ways to celebrate the wheel of the year. With her trademark warmth and practicality, Ellen shares a bit of history and lore on each sabbat as well as simple yet meaningful ideas for honoring each season. There are colorful decorating suggestions, fun craft projects, tasty recipes, insightful journal notes about her enchanted garden through the year, and natural magick aligned with each holiday. This charming and friendly book will inspire readers with new ideas, fresh spells, and seasonal rituals to make their own sabbat celebrations more personal and powerful.

______________________________________________________________
Practical Protection Magick: Guarding & Reclaiming Your Power (March 2011)
Price $16.95
ISBN# 9780738721682
Book Description: Embrace your inner warrior to safeguard your personal power. Use protection magick and psychic self-defense to stay strong, healthy, and happy.
With honesty and humor, best-selling author Ellen Dugan teaches how to weave safe and sensible protection magick into your practice and daily life. This unique practical guide reveals how to pinpoint your psychic strenghts, set boundaries, diagnose a problem with divination, and maintain health on a physical, psychic, and magickal levels. You'll also find simple and potent spells, rituals and warding techniques to defend against psychic attacks, emotional and psychic vampires, hexes, unwanted ghosts, and other forms of negativity threatening your home and your well being.
______________________________________________________________________
Book of Witchery: Spells, Charms & Correspondences for Every Day of the Week
Price $19.95
ISBN # 9780738715841
Publishers Description: Witchery isn't limited to the sabbats and to the occasional full moon; magick happens every day. In this treasury of enchantments, spells and witchery, popular author Ellen Dugan presents her personal grimoire of magick essentials to keep you happily conjuring seven days a week! Formerly available as 7 Days of Magic, new and advanced material has more than doubled the witchy wisdom within these pages, yet it still fits into a busy Witch's schedule. As you learn daily magickal correspondences and themes, you'll build a solid foundation of knowledge and open up amazing possibilities for highly effective spellwork and witchery each and every day.
At-a-Glance Correspondences Daily Magickal Applications
Deities Meditations, Magickal Plants & Flower Colors, Candles, Crystals & Metals Potions, Philters & Oils, Daily Witch Crafts Daily Rituals
"This treasury of enchantments and spells will keep you conjuring seven days a week!"—Prediction Magazine."
___________________________________________________________________________
Garden Witch's Herbal: Green Magick, Herbalism & Spirituality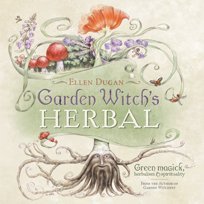 2010 COVR Award First Runner Up "Best Wiccan/ Paganism Book Category"

ISBN # 9780738714295
Price $19.95
Enrich your Craft—and your spirit—by working with the awesome energies of nature. In this follow-up to Garden Witchery, Ellen Dugan takes us further down the path of green magick, revealing the secret splendors of the plant kingdom. From common herbs and flowers to enchanted shrubs and trees, Dugan digs up the magickal dirt on a wide variety of plant life.
Encouraging Witches to think outside the window box, she shares ideas for incorporating your garden's bounty into spellwork, sabbat celebrations, and more. Tips for container gardening ensure that city Witches can get in on the green action, too. This stimulating guide to green Witchery—featuring botanical illustrations of nearly fifty fascinating specimens—will inspire you to personalize your Craft and fortify your connection to the earth.
"The conversational tone of Garden Witch's Herbal is a refreshing change from other garden-variety horticulture books and makes Dugan's herbal entertaining as well as informative."
—New Age Retailer

__________________________________________________________________________________________________

How to Enchant a Man: Spells to Bewitch, Bedazzle & Beguile
ISBN 9780738711133
Price $14.95
Passion. Romance. Lasting love.

All of this can be yours by calling upon the magick in nature—and the divine feminine power within.

Whether you want to rekindle romance or conjure up the man of your dreams, this smoldering book of spellcrafting will show you how to find and keep true love:
• Embrace your inner goddess by learning to love yourself
• Spark a man's desire with "come hither" flirting and seduction techniques
• Cast sexy spells for every moon phase, season, and day of the week
• Enhance your magnetism and outer beauty with glamour spells

Designed for the single or married enchantress, this easy-to-use guidebook shows you how to craft love spells using objects commonly found in nature. It also includes a spell worksheet for creating your own spells and charms.

Whisper words of enchantment, light a candle...
and let love illuminate your world!
_________________________________________________________________________________________________
Natural Witchery: Intuitive, Personal & Practical Magick
2008 COVR AWARD WINNER "Best Book Wicca/ Paganism Category"
ISBN 9780738709222
Price $16.95
A Friendly Field Guide to Natural Witchery

A natural Witch has an appreciation of nature and an awareness of the magickal energies present in all things. This kinship with the unseen world is at the heart of Witchcraft. It is also the foundation of all magickal work.

You will enhance your spellcrafting, empower your witchery, and add richness and depth to your everyday life by developing your intuition and psychic skills. Natural Witchery features straightforward how-to's, first-hand stories, spells, rituals, fun quizzes, and creative exercises to help you live a more magickal life:

Learn how to tune in to many different kinds of energy, such as the cycles of the moon and the energy of the seasons, and use it to fuel your spellwork
Explore different types of psychic abilities, and discover your own elemental strengths and challenges
Use natural witchery to create more harmony and balance in your home, workplace, and circle

This friendly guidebook also includes a Book of Witchery with magickal correspondences and a handy journal section for keeping track of your progress.
_________________________________________________________________________________________________
Herb Magic for Beginners: Down-to Earth Enchantments- (New Cover art!)
ISBN 9780738708379
Price $12.95
Stir up passion with violet or nab a new job with honeysuckle. From parsley to periwinkle, people enjoy herbs for their aroma, taste, and healing abilities, but few are aware of the enchanting powers harnessed within these multipurpose plants. Breathing new life into herbal folklore and wisdom, Ellen Dugan introduces the magical side of these natural treasures.

The author of Cottage Witchery describes the magical traits of flowers, roots, trees, spices, and other commonly found herbs. Under her guidance, readers learn the basics of magic and spellworking so they may safely explore herbal magic on their own for health, luck, prosperity, romance, protection, and more!
________________________________________________________________________________________________
The Enchanted Cat: Feline Fascinations, Spells & Magick
2007 COVR AWARD WINNER "Best Book Magick/ Shamanism Category"
ISBN 9780738707693
Price $12.95
From the temples of ancient Egypt to the homes of modern Witches, cats have long been associated with magick and mystery. Examining cat mythology and folklore from around the world and sprinkled with enchanting cat quotes from famous feline admirers throughout the ages, The Enchanted Cat is a must-read for any magickal cat fancier.

Witches, Pagans, and other magick-minded folks will love the dozens of charms, spells, and meditations included for working with feline power. A naming ceremony, lists of magickal cat names and correspondences, and spells and charms for your cat's collar are just a sampling of the feline-friendly magick inside. Cat astrology, tarot, and even a discussion of feline feng shui make The Enchanted Cat a uniquely magickal exploration of our enduring fascination with the feline mystique.
__________________________________________________________________________________________________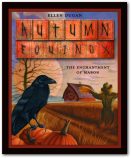 Autumn Equinox: The Enchantment of Mabon
ISBN 9780738706245
Price $14.95
Mabon, Feast of Avalon, Cornucopia, Harvest Home, Festival of the Vine . . . there are many names for this magickal holiday that celebrates the autumn equinox, the first day of fall. Ellen Dugan takes a fresh look at this "forgotten" Sabbat and demonstrates how to make the most of this enchanting season.

Featuring craft projects, recipes, enchantments, and valuable information on harvest deities, Autumn Equinox offers countless ways to bring fall magick into your life. Learn to create witchy wreaths, cook seasonal foods, put together a homemade centerpiece, make herbal soap, and practice spells and rituals using easy to find, natural supplies. This new addition to Llewellyn's Sabbats series also provides magickal correspondences on harvest deities, herbs, plants, and foods for those who want to create their own autumn spells and charms.
_____________________________________________________________________________________________
Cottage Witchery: Natural Magick for Hearth & Home
ISBN 9780738706252
Price $16.95
Ellen Dugan, the author of Garden Witchery, is the ideal guide to show us how to bring the beauty of nature and its magickal energies indoors. Using common household and outdoor items-such as herbs, spices, dried flowers, plants, stones, and candles-she offers a down-to-earth approach to creating an enchanted home.

From specialized spells and charms to kitchen conjuring and color magick, this hands-on guide teaches Witches of all levels how to strengthen a home's aura and energy. Readers will learn how to use begonias and lilacs for protection, dispel bad vibes with salt and lemon, perform tea leaf readings, bless the home with fruit, invite the help of home faeries, perform houseplant magick, and create a loving home for the whole family.
(Ellen recently added an online course, Natural Magick for Hearth & Home, that is based upon this book.)
___________________________________________________________________________________________________
7 Days of Magic: Spells, Charms & Correspondences for the Bewitching Week
(Out of Print)
ISBN 9780738705897
Price $12.95
Enchantment is not limited to the Sabbats and the occasional full moon. Magic happens all the time and every day. 7 Days of Magic demonstrates how to successfully apply the specific magical energies of each day into spells, charms, and rituals.

Forget about memorizing massive correspondence charts. This practical, easy-to-use guide encourages readers to learn at their own pace. Every chapter-one for each day of the week-contains a small table of magical correspondences (planetary influence & symbol, deities, flowers & plants, metals, colors, crystals & stones, Tarot cards, herbs & spices), which are talked about in-depth within seven distinct sections. Each chapter ends with a magickal potpourri of sample spells and rituals.
________________________________________________________________________________________________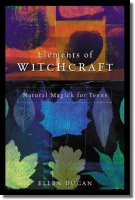 Elements of Witchcraft: Natural Magick for Teens
ISBN 9780738703930
Price $14.95
Study and work with the four elements of earth, air, fire, and water and learn many different forms of real magick, including crystal, herb, stone, color, and candle magick. It might not be as flashy as the movies make it seem, but real Witches work magick every day-the magick of the natural world, the magick of the Craft, and especially the magick of the heart and mind.
(Ellen's online class- The Elements of Witchcraft uses this book as it's required text!)
_________________________________________________________________________________________________
Garden Witchery: Magick from the Ground Up 10th Anniversary Issue!
2004 COVR AWARD 2ND RUNNER-UP!
ISBN 9780738703183
Price $16.95

How does your magickal garden grow?... With violets, rosemary, and yarrow to attract faeries; an apple tree for love and health; and a circle of stones in some tucked-away corner? Whether you live in a cottage in the woods, a home in the suburbs, or a city apartment with a small balcony, a powerful and enchanted realm awaits you. Discover the secret language and magickal properties of the trees and flowers, herbs and plants found growing around you, and learn how to create your own witch's garden.
This is Ellen's first book and still a classic! Now in its 8th printing and still going strong!
________________________________________________________________________________